Peach Pit
SAT OCT 18
| | |
| --- | --- |
| Show | 10:30pm |
| Doors | 10:30pm |
21+
$5 / $8 After Midnight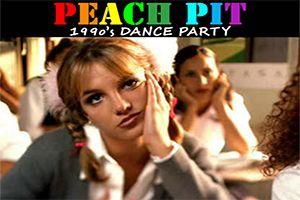 SPREAD THE WORD, and remember that the earlier you arrive, the shorter the line - and the more 90's classics you'll get to hear!
A Gay Dance Party
Resident DJ Matt Bailer
/ FACEBOOK
As one half of the beloved Mixtape dj duo and the creator of Peach Pit, Matt has a stellar reputation in DC as an indie-pop-electro-dance dj. A fun night of dancing for everyone!
First 50 get a free Mercy Beverage
/ OFFICIAL WEBSITE / TWITTER / FACEBOOK
A hangover is a complex chemical process. All alcoholic beverages contain ethanol (the fun stuff!) that your body has to break down. As it does, it produces a toxic byproduct acetaldehyde. This post-drinking buildup of acetaldehyde is the leading cause of headache, nausea, fatigue, foggy head and irritability we call a hangover. Even one glass of wine, one beer or one cocktail can jumpstart this process.

Here is where Mercy comes in.

The secret is Glutathione, the "superhero" antioxidant responsible for removing free-radicals and harmful toxins such as acetaldehyde from your body. The best way to increase the amount of this powerful detoxifier is to consume its complex components. We spent 6 hears researching this exact mix of vitamins, amino acids and nutrients to supercharge glutathione production and stop a hangover before it starts.