The Bright Light Social Hour
THU APR 9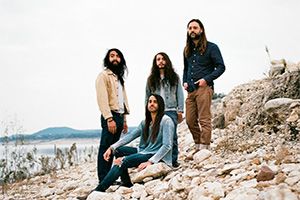 / OFFICIAL WEBSITE / TWITTER / FACEBOOK
The Bright Light Social Hour is a psychedelic southern rock band from Austin, Texas. Born out of a university art-rock collective, the band first gained attention in Austin from their incendiary live performances and innovative vision of rock and roll. Melding neo-psychedelia, hard dance, and southern soul, their debut full-length album led to heightening critical acclaim, national touring, and a rare sweep of six awards at the SXSW 2011 Austin Music Awards, including Band of the Year, Album of the Year, and Song of the Year.
Following their album release, The Bright Light Social Hour have embarked on a heavy touring rotation, playing over four hundred shows throughout the United States, Canada, and Mexico. They have performed in front of thousands of new fans, most recently at Lollapalooza 2013, Austin City Limits 2013 and opening for Aerosmith at the Plains of Abraham in Quebec City. The Bright Light Social Hour is currently recording their second full-length album, for release in 2015.
THE TONTONS
/ OFFICIAL WEBSITE / TWITTER / FACEBOOK
It's funny. The Tontons don't have a readily available mainstream band to make an off-the-cuff comparison, so in this space we won't tell you they sound like Indie Flavor Of The Week or Noted And Weighty Classic Rock Name. The Tontons simply sound like the Tontons. That sounds like false bluster, but anyone who has been tracking them since 2008 will tell you the same thing. Up front is Asli Omar, that vocal vixen who can make men and rock nerds alike quake in their boots. Bassist Tom Nguyen, whose rumble forms the dermis of the band and then them boys Adam and Justin Martinez come in with titanic guitars and drums to make sure you are still moving your feet. This is a band that has been fully embraced by their native Houston, and the Tontons have hugged the city back with relentless gigging around town, and now it's time for the world to get some love from The Tontons.