Moving Units Presents: The Songs Of Joy Division
WED MAR 1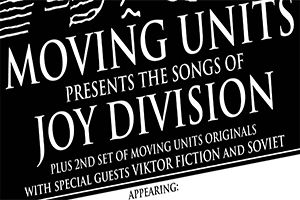 Moving Units
/ OFFICIAL WEBSITE / TWITTER / FACEBOOK
Moving Units and this is their natural element: unadulterated grooves and constant motion. Moving Units have bottled this chemistry since their self-titled 2002 EP debut. When Blake Miller first started writing demos and recruiting band mates to help expand his vision, the idea of fusing dance music and indie rock was practically alien.

Leading the way along with groups like The Rapture, Franz Ferdinand, The Faint and Bloc Party, Moving Units were at the vanguard of bringing body-rocking grooves to scythe-edged rock and roll. They pioneered a brand of "Dance Punk" that exploded into clubs and radio stations across the globe. "Back then, no one danced at shows in LA. People were trying to play it cool," Miller says." We wanted to shake things up and make people boogie."
Viktor Fiction
/ OFFICIAL WEBSITE / TWITTER / FACEBOOK
Who is Viktor Fiction!?This is a very good question and one on the minds of many encountering this new captivating music entity hailing from East LA… Viktor Fiction mysteriously fell to earth late last century and took the form of a human infant boy named Dave Trumfio (Formerly of new wave revivalists Pulsars and a seasoned recording and production impresario known for work with the likes of Pulsars, The Jesus & Mary Chain , The Rentals , Built To Spill, Mekons, Sia, Soviet, Ok Go, Grandaddy, Wilco, Rooney and many more). Dave knew from a early age he had something inhabiting his being and couldn't get a handle on what it was. Through his early life he couldn't escape the urge to twitch and contort when he heard electrified music. It drove him to a life of undying devotion to all things electric and knew he'd make electric music his life from a very early age… FLASH FORWARD to early 2014 when the uncontrollable urge to create new music took control after a extremely vivid dream encounter with a menacing light force calling itself Viktor Fiction. Vik explained he's been inside him since birth and that he's pissed Dave hasn't followed his subconscious commands in recent years as he's done in the past. Vik then said he'd torment him endlessly until Trumfio obey his wishes! Dave wisely opted to not be tormented by the overbearing force and banded together with long time studio production partner Celso A. Estrada (Islands, The Rentals, Beat Club, White Dove) and session drummer Michael Sanger (JUAREZ, Dead Western Plains, These Machines Are Winning) to form the appropriately named Viktor Fiction… Early rehearsals revealed a sound none of them could have imagined fusing the best of their mutual post punk new wave influences and the now sounds of today. In early May 2015, as numerous offers of live performance opportunities began to emerge, they came to the realization they needed a dedicated synthesist in the fold. It took Dave two seconds to suggest long time friend, synthesizer wrangler and film composer Keith Le Rouge of Electro Clash darlings Soviet. With this final piece of the puzzle in place, Viktor Fiction is now set to emblaze stages, airwaves and inter webs with their infectious Post EDM fueled sound bursts!
Soviet
/ OFFICIAL WEBSITE / TWITTER / FACEBOOK
While Soviet is now entirely solo, Ruggiero initially converged with college comrade, Christopher Otchy. Their first album We Are Eyes, We Are Builders fused human emotions with embellished melodies, luscious synths, and austere beats. Soviet took a swing at the most sparkling, pure remnants of the 80's and made them their own. Eventually Soviet grew to five, adding guitarist Kenan Gunduz, bassist Greg Kochan and keyboardist Amanda Lynn. Through dozens of passionate, successful shows around NYC and several nationwide tours, Soviet built themselves a fiercely devoted fanbase. After years of hard work, amiability, and good songs, Soviet would finally ride this vehicle to acclaim, only to be burned out by its simultaneous injuries.

After Ruggiero's restorative break from the music industry's grind, Soviet is primed to both find favor with old fans and to win over new ones. With its wealth of earnest emotions and assemblage of catchy melodies,like a gem waiting to be re-discovered.