Slaves (UK)
WED MAR 8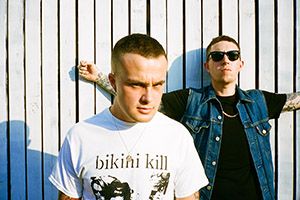 / OFFICIAL WEBSITE / TWITTER / FACEBOOK
Commercially potent twenty something bands who're tackling the self-destructive, somnambulant mood of mid-2010s Britain can be counted on the fingers of one hand – perhaps even one finger. Slaves, the hyper-motivated Kent duo of Isaac Holman (vocals, drums) and Laurie Vincent (guitar), have followed a spectacular 2015, in which they became the year's most important homegrown breakout artists, by recording another explosive hit album in waiting.
Called 'Take Control', it's devastating barrage of punk-rock fury was produced by one of the legends of early hip hop and New York punk, Mike D from Beastie Boys, who, says Laurie, "became like another member of our band – we can safely call him our friend, which is surreal!"
Buzzing from the success of last year's Mercury-nominated debut, 'Are You Satisfied?' Isaac and Laurie weren't content to sit back and lap up the plaudits. "If you stop making music, you stop being relevant," reasons Laurie, "so we just cracked straight on with it".
Enraged by the apathy and cultural neutering afoot amongst their own generation, and in society as a whole as the country lumbers towards Brexit, Slaves made a conscious effort to raise their game musically, in order to deliver their wake-up call all the more powerfully. 'Take Control' duly finds the pair sharpening up their skills, both in songwriting and in execution, hatching a tumultuously heavier sound which far exceeds any reasonable expectation of a two-man outfit.
"Every Slaves album is like a self-help guide," asserts Laurie. "You listen to 'Are You Satisfied?' to get inspired to change things. It's always about questioning things, but now it's about following through, and starting the mission, and, like the title says, taking control."
Walk The Plank