Lanternfish
SAT FEB 25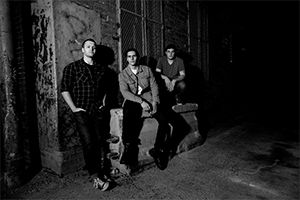 Loud. Atmospheric. Rock music. Formed in the winter months of 2015, Lanternfish is one of Washington D.C.'s fastest-rising bands. Combining jazz and blues guitar progressions with metal influenced drums and power rock vocals, the trio is quickly gathering attention in the DC alt---rock scene. Its three members, (Toby Andersen, Gibran Esa, and Rob MacPherson) came together bartending, slinging vodka sodas at the district's inhabitants. After discovering a mutual adoration of all things heavy, powerful and rock, the three set out to create a new force in the DC music scene. Blending the elements of their favorite genres, the band is a culmination of years of musical experience, talent, drive, and a respect for all those who came before.
With influences such as Soundgarden, The Smashing Pumpkins, Alice in Chains and the Foo Fighters, Lanternfish delivers a powerfully atmospheric sound that leaves the listener asking for more. Its masterfully crafted melodies, dynamic rhythms, and profound lyrics bring together many different fans to the tune of one powerful and inspiring musical experience. The band's debut EP, Forgetfulness, released on January 31, 2017, and will undoubtedly propel the band to new heights. As the days get colder, the light begins to fade and the year comes to an end, the legend of the Lanternfish is growing. The ice may be thick, but it cannot keep the Lanternfish from rising. Be ready for the day the ice breaks.
Technicians
Navid Marvi and Nick Glover met at American University—forming Technicians in 2009 after playing their first show at the Korean Embassy for President Obama's inauguration.

Ryan Hobbs and Stephen Smith joined in 2011. Shortly thereafter, the band released the Technicians EP and built a reputation for intense and energetic live shows.

The next few years were spent writing and playing with other groups—Navid in Drop Electric, Steve in Drop Electric and FUNKMNKYZ, Nick in Gunblade X and Ryan in Grey Sky Eternal.

In 2016, Technicians will release "Now That We're Home," their first full length album.
Calm & Crisis
/ FACEBOOK
Founded two years ago in the District of Columbia, Calm and Crisis brings new energy to the term "Indie Rock." 24Our Music described their full length LP, In A Real Good Place as a "...borderline indie rock opera," receiving 3.5/4 stars from Fredrick Playlist who claims, "There are moments so simple, yet so poignant for reasons impossible to fully explain." The four piece describes their sound as rooted in American punk, but expanding rapidly into a sound completely their own. The band derives their name from the dynamic and uninhibited nature of both their recordings and their live shows. At times it's electrifying, and others it's tranquil. But it's always a spectacle, and most importantly, it's heartfelt.