Nightlands with special guest The Building [EARLY SHOW]
FRI MAY 19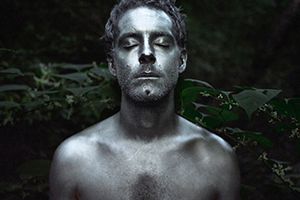 / OFFICIAL WEBSITE / TWITTER / FACEBOOK
The son of a genetic engineer, Dave Hartley has eschewed his father's profession but decidedly inherited his analytical proclivities and love of "the lab." As Nightlands, Hartley is a scientist trying to create and understand art through analytical process. Here, with sophomore album Oak Island, his follow up to 2010's superb Forget the Mantra, new questions are explored: what happens when the human voice is layered exponentially? Is the sum more man, or more melancholy machine? In seeking these answers, Nightlands takes us on a spirit quest through lush forests down into The Uncanny Valley. Each distorted, silver-voiced melody is wrapped in the sounds of 70s AM gold — plucked acoustic guitars, trumpets, dulcimers and hand percussion. In using these pop touchstones, the songs become something close to memories, the faded feelings that tide in and out of you when conjuring the past. To this end, virtually every chord played on Oak Island is a major-7th, the most nostalgic harmonic grouping. Seals & Croft produced by mid-70s beetle-voiced Brian Eno. Crosby, HAL and Nash.
The Building
/ OFFICIAL WEBSITE / TWITTER / FACEBOOK
"You're Still Champ" EP is made up of instrumental elements from The Building's forthcoming album "The Swooshy Businessman". In the context of the songs that they are from, these elements might get buried or brushed over. But when presented on their own, they become romanticized versions of themselves; sounding more grand and important than they actually are. There is also the possibility for them to sound superfluous and not worth being presented outside the context of their song. This idea of perception of memory is also central to the songs of "The Swooshy Businessman".