Iron Chic
SUN MAY 14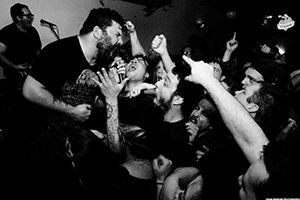 / OFFICIAL WEBSITE / TWITTER / FACEBOOK
Iron Chic is a melodic punk band from Huntington Station, NY. Formed back in 2008, the band released a five-song demo tape, followed by the Shitty Rambo 7-inch the next year, and finally their debut full-length, Not Like This, in 2010 - all on Long Island-based Dead Broke Rekerds. The band garnered quite a bit of attention, not only for their music, but also because they were hailed as a "supergroup" (Punknews.org), featuring members of Latterman, Small Arms Dealer, and more. In the following years, the band released a split 7inch, and toured hard. Finally in 2013, they teased fans with the Spooky Action 7", and then released their anticipated proper followup, The Constant One, to great acclaim.
J Robbins
J began his career as a bassist for Government Issue, and has also led four of his own bands: Jawbox, Rollkicker Laydown, Burning Airlines, and Channels.
The Rememberables
/ OFFICIAL WEBSITE / TWITTER / FACEBOOK
The Rememberables is a fierce four-piece punk rock band hailing from Washington, D.C. Mixing DC punk with 90's shoegaze, grunge, and art-rock, The Rememberables utilize heavy guitars, hammering drums, and pop sensibility in their live show, drawing comparisons to early Weezer, Dinosaur Jr., Smashing Pumpkins, & Jawbreaker. Solidifying its lineup in 2014 with the addition of Mat Cabral on bass and Chris Moore (of Coke Bust, Repulsion) on drums, the band has since released a 3-song 7" EP and toured the east coast in support of it. Currently, the band is performing locally and regionally, promoting, and preparing for the release of their debut LP on European label, Adagio830 Records.