Acid Dad & Honduras
WED MAR 29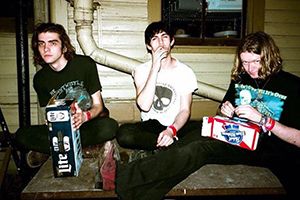 ACID DAD
/ OFFICIAL WEBSITE / TWITTER / FACEBOOK
Although barely 18-months-old, Acid Dad have quickly established themselves as one of the tightest, tireless, and most energetic live bands in the Brooklyn scene, with Oh My Rockness deeming them one of the site's 'Hardest-Working Bands of 2015.' The foursome – all in their early 20s and two of whom were enrolled full-time at NYU until recently – have already released a string of infectious psych-punk singles that have earned them nods from the likes of NYLON, Village Voice, Impose, HERO, CMJ, The Deli, and more.
HONDURAS
/ OFFICIAL WEBSITE / TWITTER / FACEBOOK
Friends since childhood, Patrick Phillips (vocals/guitar) and Tyson Moore (lead guitar) found each other again in a Brooklyn basement where they began writing much of what would become Honduras' early material. Inspired by late 70's punk, but mixing in aspects of garage and indie, Honduras played Brooklyn's DIY venue scene tirelessly and garnered a reputation for amazing live performances, with comparisons to bands like Sex Pistols and Buzzcocks. Josh Wehle (drums) and Paul Lizarraga (bass) round out the band's signature polished edge. Their more recent writing has included elements of krautrock and psych to their already energetic tracks for an intellectually developed sound. While picking up additional attention from serious tastemakers like Rolling Stone, NME, Noisey, Impose, and Fader, the group has shared stages like Bowery Ballroom and Music Hall of Williamsburg with notable acts like Blur, Metz, Fidlar, Twin Peaks, Drowners and the Kaiser Chiefs. Honduras' song Paralyzed has been in rotation on Sirius XMU throughout the past year as well as various college radio stations. The band started national touring in 2015 supporting Oberhofer and have since supported other notables such as Sunflower Bean, The Helio Sequence, Mothers, and Methyl Ethyl. In June of 2016 they will be on a North American tour with legendary Brooklyn DIY punk band The So So Glos. Honduras is currently supporting the release of their latest EP, Gathering Rust, which premiered on NME and Noisey and has garnered critical acclaim.