Sam Evian / Uni Ika Ai [EARLY SHOW]
FRI MAY 5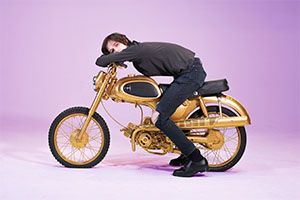 Sam Evian
/ OFFICIAL WEBSITE / TWITTER / FACEBOOK
Sam Evian is a new music project from New York City, and the latest signing to Saddle Creek.
"Sleep Easy" is the first track to be shared from Premium, the debut Sam Evian LP, scheduled for release in 2016. The limpid ease of Premium was captured in just a handful of days at Figure 8 studio in Brooklyn, where Sam is a resident engineer and producer.
Glowing lead guitar, aching pedal steel, Wurlitzer keys and iconic 20th-century synths coalesce over a sublime, supportive rhythm section, guiding Sam's melodies through a semi-familiar mist: the post-'60s zeitgeist, a sun-baked cassette of Pet Sounds, the modern struggle for emotional involvement in the internet age.
"Sleep Easy" is available on limited edition 7 inch vinyl backed with "You Have To Hydrate" – ready to ship in September and available for pre-order now at the Saddle Creek Online Store.
"Someone once told me that having one penny is 100% better than having no pennies. Making Premium was like picking a lucky penny up off the street. I wrote the songs ten days prior to my first show, though the ideas had been living under the surface for some years. Sometimes a deadline is all you need. The band came together effortlessly and we found ourselves in the studio on borrowed time, smiling a lot. The use of 'Premium' is funny to me. Bottled water is funny to me. We're all hustling the same thing and packaging it in different ways. Stay hydrated," says Sam.
'Oh, it was wonder of wonders. And then, a bird of like rarest spun heavenmetal, or like silvery wine flowing in a spaceship, gravity all nonsense now, came the violin solo above all the other strings, and those strings were like a cage of silk round my bed. Then flute and oboe bored, like worms of platinum, into the thick thick toffee gold and silver. I was in such bliss, my brothers." -Anthony Burgess
Uni Ika Ai
/ OFFICIAL WEBSITE / TWITTER / FACEBOOK
Uni Ika Ai [pronounced: oo­-nee ee­kuh eye] is a Brooklyn based dream­pop / art­pop band comprised of music veterans Maia Friedman (Bobby), Peter Lalish (Lucius, Elizabeth & The Catapult), Tom Deis (Via Audio), and Dan Drohan (Wilsen). The band's recently released debut album, Keeping A Golden Bullseye In The Corner of My Mind, incorporates elements of experimentalism, psychedelic haze, and eclectically unique pop — a "rhythmic, wonderfully askew brand of ethereal pop" (Stereogum) that The Wild Honey Pie says is a "new kind of off-kilter dream pop that the genre has been waiting for."
Uni Ika Ai was born out of a desire for improvisation and experimentation. While on tour with Lucius in 2014, Lalish would record improvised snippets made during sound checks and email them to Friedman, who would send improvised snippets recorded at home in Brooklyn, in return. The two musicians, once in the same room, would mold the abstract material into fully formed songs. For Bullseye, the band enlisted D. James Goodwin as engineer, producer, and saxophonist, having him add occasional exuberant accents of jazz-inspired improvisation to the album's atmospheric doses of peace and chaos. "Just like dreams, [Uni Ika Ai's] songs pulse on airwaves that are both viscerally familiar and also slightly out of touch with the world we've come to live in" (ThrdCoast).