Kominas [late show]
SAT JUN 10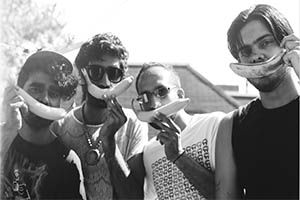 The Kominas have been called many things over the years, but are basically just 4 weird brown dudes in a surfy-punk band. Karna, Basim, Sunny, and Shahjehan are set to release their 5th album in 2017, and really want to do some good for the collective mental health of civil society. They look forward to sharing space with everyone celebrating Red Baraat's Festival of Colors.
Giant Kitty
Giant Kitty continues the tradition of strong female voices in punk while bringing along eclectic influences, diverse backgrounds, and a comedic sensibility. This four-piece combines elements of punk, new wave, hard rock, and riot grrrl to make both relevant and irreverent songs full of energy and sharp lyrics. Their sound is often described as a mix between the Runaways, Bikini Kill, and Blondie.
Company Calls
/ OFFICIAL WEBSITE / TWITTER / FACEBOOK
The band was formed when Nat and Krys met during a show at Iota Café in Arlington, VA back in 2008. Nat and Krys quickly bonded over their love for the YYYs, The Cure, Sleater-Kinney. Nat was slated to be the drummer while Krys would be the lead guitarist. However, it wasn't long before the duo realized Nat's raw vocals was just what they were looking for.