OFFICIAL FUNK PARADE 2017 SHOW
SAT MAY 6
all ages
FREE/FIRST COME, FIRST SERVE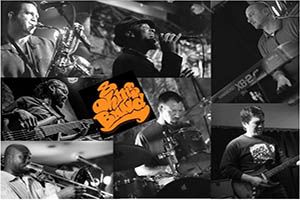 8 OHMS BAND
/ OFFICIAL WEBSITE / TWITTER / FACEBOOK
The 8 Ohms Band is a powerhouse lineup of players from all over the DC metro area. Bringing heaping doses of Horn Heavy Funk backing the vocals of I-Peace Unikue ! Drawing from diverse musical backgrounds, The 8 Ohms are known for blurring the lines between hard groove, funk, soul, reggae and a slight taste of DC's own go-go music. Regardlessof the music, the energy is undeniable & the 8 Ohms are masters at keeping the dance floor moving!
Backbeat Underground
/ OFFICIAL WEBSITE / TWITTER / FACEBOOK
Born in the depths of subterranean groove gatherings, Backbeat Underground is a Washington, DC based instrumental funk group with soul jazz influences. Bringing their years of collective experience in the DC and NYC music scenes, the band delivers tight, energetic sets steeped in fresh improvisation and head-bopping, booty-shaking pockets. Backbeat Underground was proud to serve as stewards of the funk in DC's first, second, and third annual Funk Parade, and the band is quickly gaining notoriety for their organic and smoldering blend of soulful funk and jazz.