Andrew St. James
SUN JUN 25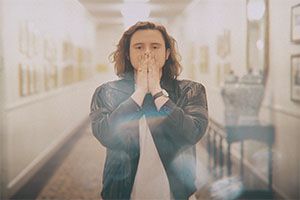 / OFFICIAL WEBSITE / TWITTER / FACEBOOK
San Francisco native, Andrew St. James' outlook may seem contrary to his generations unwavering optimism and the idea that the best is yet to come...that what we have done before is only setting the stage. His music is complex and introspective and sometimes dark. Like the over 50 million young people of his generation, he grew up with images of the Twin Towers falling; Occupy Wall Street; wars in Iraq and Afghanistan and inner-city violence being replayed daily on the nightly news...and it shows in his writing. As a voyeur of modern life's travails, his lyrics echo with complex questions and commentary.
As part of that super generation aged 18-29 called Millennials, St. James exhibits all of the narcissism of his age, bringing the perspectives of his generation to an old genre of rock music with a new connectivity we have not seen before.
Lauded by American Songwriter "a wisdom that extends beyond his years," St. James teamed up with veteran Bay Area producer Jim Greer (Foster the People) in 2013, to produce a work of deep themes and magical lyrics, that would be come his debut album, Doldrums (Fortune/Island Jar).
In October 2014, St. James released his second full-length, The Shakes (Fortune/Island Jar) to critical acclaim from the likes of Entertainment Weekly, Paste and more.
Selina George
/ OFFICIAL WEBSITE / TWITTER / FACEBOOK
Pulling from an electing range of influences- fusing together folk elements with soulful R&B Jazz roots. A truly immersive storyteller, one can see the originality behind the acoustic nature of George's stories. Her latest EP, By Myself" debuted to much acclaim in 2016, landing George a benchmark performance at Howard Theatre and a radio show with WPFW's "Soul Conversations Radio." George has also garnered nods from a wide range of collective and publications in the metro area; including WPGC 95.5, Tropicalia Nightclub, Takoma Station, Pure Lounge and Montgomery College. Currently working on creating her own label George plans to move to Los Angeles on the pursuit of her journey as an artist.
Lavender
Lavender creates a world all her own, highlighting topics of romance, privilege, masking, and class struggle.