LIONIZE
SAT JUL 22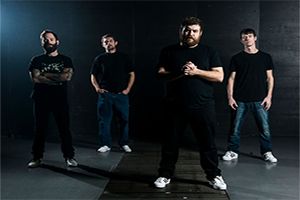 / OFFICIAL WEBSITE / TWITTER / FACEBOOK
In Washington D.C., it's easy to forget that this city has spawned some of the most diverse, fiery sounds in modern music. It's a cornerstone in a region that's integrated rock, hardcore punk, reggae and more through the likes of Bad Brains, Fugazi and Clutch, and where Latin and funk fused to form the vibrant sound of go-go music. And in it's suburbs, four guys – aka Lionize – have been stirring up this heavy, colourful cocktail with a profoundly creative approach, an arsenal of tasty, bluesy hooks and a tonne of sci-fi-infused lyrics.
Over six albums Lionize have cultivated a unique blend of funky riffs, cyborg tales and soulful reggae sensibilities. From the beginning, with 2005's Danger My Dear, they were pushing boundaries. In 2008 they recorded second album, Space Pope And The Glass Machine, at Harry J Studios in Jamaica – where Bob Marley made several records. By the time the propulsive Jetpack Soundtrack was released (in 2014) they'd streamlined all this experience into an original, more-ish rock whole. Now, with seventh LP Nuclear Soul, they're raising the bar again with their most fearless, expansive-sounding songs yet.
As singer/guitarist Nate Bergman tells us: "It [the music] has elements of bands like Clutch and Deep Purple, but its not quite that – it's something all it's own. I think the beauty of the band right now is that all these elements touch on something familiar, but also sound new."
The Lionize story begins in Silver Spring, Maryland, where Bergman, keyboardist Chris Brooks and bassist Henry 'Hank' Upton met as teenagers in middle school. By high school they'd become firm friends, bonding over a shared appreciation of their local music scene, as well as a healthy dose of classic staples from Led Zeppelin and the Rolling Stones, to Parliament and Motown. In 2004 they formed Lionize, completed by drummer Chase Lapp in 2013.
Along the way, they've enthralled audiences at festivals including Red Rocks and Desert Fest, and on tour with The Wailers, Clutch and others. Support slots with Bad Brains and Steel Pulse also earned them kudos as a 'reggae rock' group – as did their stint with dub/reggae icon Lee Scratch Pretty. In truth, however, Lionize were always about much more than that. Now, signed to New York's The End Records, the band are taking a fresh look at their sound. Cut at the Magpie Cage studio and The Lion's Den, MD, Nuclear Soul was co-produced with the band by J.Robbins and (Clutch drummer) Jean Paul Gaster. No tricks – just a liberated, highly driven set of tunes.
In writing and road testing Nuclear Soul the band aimed to redefine what it means to be a classic sounding rock'n'roll band. Thematically, they also harnessed the present political climate to powerful effect. Darkest Timeline is at once fiercely groovy and evocative of social disenchantment. Tracks like Power Grid Blues evoke a turbocharged Deep Purple, if they'd spent time in soul bands. And Ain't It A Shame stirs blues, reggae hints and Santana-esque guitar into one passionate declaration. Familiar but new, as Bergman says.
"We had no rules or ideals," he continues. "We just wanted to take people on a musical journey that excited them, and showed how emotionally moving the band could be."
Ultimately this is Lionize at their most stadium-ready – without compromising on soul, sass or substance. It's that wonderful space where vintage style and contemporary fire collide.
Of Tomorrow
/ OFFICIAL WEBSITE / TWITTER / FACEBOOK
This band of D.C. music veterans combines melodic, soulful songwriting with unmatched skill and precision. Their live shows that are nothing short of explosive. Their 10-song LP, The Squids, is coming next month and is very, very highly anticipated. You should make space on your playlist now, because we have a feeling of Tomorrow's record is going to be the soundtrack to your Fall 2016.

If you like Umphrey's McGee, Lettuce, Radiohead, Snarky Puppy, or high-caliber genre bending artists in general, you will love of Tomorrow and should seriously put these DC residency dates on your show calendar. For starters, the band's band's bass player, Nick Söderström, is insanely good. He's pretty much a bass prodigy. You need to see it to believe it. One of the tracks on the album, Basslove, features dueling solos between Nick and special guest John Ferrara of Consider the Source – LMD was able to preview the track, and the amount of bass facemeltage is mind-boggling.
Tomato Dodgers
/ OFFICIAL WEBSITE / TWITTER / FACEBOOK
Moxious groovesters nimbly sidestepping the ripe projectiles of struggle, in hopes of unearthing a fresh, funky future free of falling fruit.