Br'er
WED MAY 24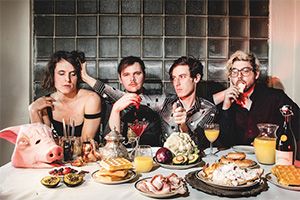 / OFFICIAL WEBSITE / TWITTER / FACEBOOK
Br'er is a DC based experimental noise pop band consisting of Benjamin Schurr (voice, guitar) Ben Usie (Drums, Sampler) Erik Sleight (Synth, Sampler) and Johnny Fantastic (Synths, Voice).
Formed in Philadelphia in 2007 and relocated in DC in 2013, the band has released three full-length albums with multiple EPs and singles interspersed while touring extensively on the DIY circuit throughout North America. Schurr moved to DC by chance while touring with the project Eskimeaux. The band's van hit a deer en route their DC gig, and was subsequently towed to the legendary (now defunct) house space, Paperhaus. There, Schurr met artist Johnny Fantastic, who convinced him to move to DC to work on music together. This meeting served as the beginning of a new chapter for Br'er, which had existed for several years in Philly outputting numerous releases, but slogging through several lineup changes between marathon tours. The incremental process of write-record-tour-repeat has paid creative dividends for Br'er; the songwriting process happens fast, almost stream-of-consciousness. But, the band shows a sturdier confidence with each new release.
Schurr also acts as ringleader for freak-electronic label/collective Blight Records, which has caught significant attention both in and around DC for its embrace of experimentalism, queer, transgender, punk and anti-fascism culture and community. 
Br'er's fourth LP, Brunch is for Assholes, was recorded in spring of 2016 at Schurr's home studio at the Lighthouse in the Petworth neighborhood of DC. Petworth has a particular significance to the writing of the record, as it is known as one of the fastest gentrifying neighborhoods in the city. The lyrics were primarily written while Schurr was working as a mover, reflecting on the violence of gentrification's short-selling of community in exchange for condos and fast casual cuisine. Given the current political turmoil in the District, Brunch is a timely discourse on the social history of the last eight years, given the uncomfortable context of present day politics.
Sleepy Kitty
Sleepy Kitty began as an experimental sound project for a class when front woman Paige Brubeck was enrolled as an undergraduate at School of The Art Institute Chicago in 2007. Brubeck and Evan Sult (ex-Harvey Danger) began layering field recordings of the "L" and Wicker Park street poets with '60s style harmonies and crashing drums. Sult was playing drums in the math-rock indie-pop band Bound Stems at the time, and Brubeck was playing guitar in the girl group trio Stiletto Attack, but as the two bonded over Pavement and The Fall, they began writing their own post-punk, show-tune inflected songs and Sleepy Kitty went from side project to full on band.
https://www.facebook.com/DCDIT/
Nappy Nappa