No Small Children
MON AUG 21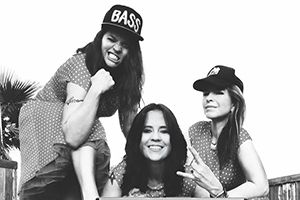 / OFFICIAL WEBSITE / TWITTER / FACEBOOK
No Small Children is excited to announce the release of their new singles, 'Radio' and 'I Feel Better'. Additionally, the band's original song, 'Big Steps', is featured in the new Netflix series, Santa Clarita Diet. The show launched February 3rd, 2017.
NSC is honored to have been invited to perform at the Unity Ball in Washington DC immediately following the Women's March on Washington, January 21st, 2017! The band spoke about this and other topics during their interview on NPR's Weekend Edition that aired January 1st.
No Small Children's remake of the classic Ghostbusters theme song can be heard in the new Ghostbusters movie! Listen to the song and watch the video! Additionally, RCA Records has officially released the song as a single.
Three teachers walk into a bar, onto the stage, plug their instruments in and then… they melt your face.
No Small Children's new singles were produced by the legendary, Bob Marlette (Rob Zombie, Black Sabbath, Filter, etc…). The band released their third album, "Hold Tight, I'm Flying", in July 2015. Produced by Lisa Pimentel and mixed by Bob Marlette, this album is heavier and more complex, but just as bold and unapologetic as their first two, "Trophy Wife" and "Dear Youth"; both available on iTunes and CDBaby.
NSC released their third music video, Big Steps, in March of 2016. Created with the help of over 30 people who generously volunteered their time, talent, and resources, the video is a collaboration in the truest sense. Their other videos include Might Get Up Slow and Drunk Creepy Guy.
NSC's animated, edgy and break-neck live show both invites you in and calls you out, all while you sing along to the fresh, yet familiar, refrains of their carefully constructed songs. Their glamorous matching dresses and bona fide command of the stage will have you leaving at the end of the night a little hoarse, with a smile, and a warm fuzzy feeling.
"I was struck not only by their musicianship but by how well they engage an audience. Lisa and Joanie are a powerful pair of front women" -Alice Bag Razorcake Mag
No Small Children is an all-girl band, or as they call themselves, a band. They were born on the playground in the spring of 2012. Elementary school-teachers by day, guitarist and singer Lisa Pimentel and drummer Nicola Berlinsky decided to start the band while covering recess duty. Three months later they had an EP, countless shows behind them and an east coast tour booked. By October 2013, bass player and singer Joanie Pimentel had moved to Los Angeles to join the group. With all three teaching at the same school, lunch breaks became band meetings, after-school times became rehearsals and holidays were reserved for touring. "Relatively new on the L.A. scene, all lady trio No Small Children have been tearing it up, one dive bar at a time" Aileen Frasier, The LA Beat 2015 In 2014, NSC released their LP, "Trophy Wife", toured both east and west coasts and played three shows at SXSW. In 2015, along with their frequent California shows, tour plans include Colorado, the Midwest, and East Coast. "It's not unusual for kids to wear a T-shirt to school with their favorite band on it. But at this school., that T-shirt may also have a picture of their teacher — actually, three of their teachers." NPR –Secret Lives of Teachers, 2014. These ladies eat, live and breathe music, and you can feel it in their songs. They create it, perform it, and then pass their love of it onto the next generation of music lovers. Soon to be playing at a big theatre near you…
The Love Loads
/ OFFICIAL WEBSITE / TWITTER / FACEBOOK
Dischord veteran, ALKEM creator, and drummer extraordinaire Ben Azzara picks up his sticks and hits the skins behind singer/songwriter Ted Watts, and aided by musical and technical prodigy, Blaine Misner, created the impulse debut album by The Love Load entitled The Human Resourceful. While the band and record are new, the players are neither new to the game or each other. Watts and Azzara have composed the rhythm section of D.C. based Pup Tent for the last five years. Both Azzara and Watts have extensive resumes.
Ben Azzara, simply put, has performed on numerous albums and played countless shows across the globe with an eclectic group of artists. Some include The Sarah Azzara Band, D.C.I.C., Junction, Delta 72, Pup Tent, Capital City Dusters, The Caution Curves, Joe Lally, Sean McArdle, Candy Coated Pain Pills, Chris Grier, and Stella Schindler. – Just to name a few! Ted Watts has worked mostly as a bass guitarist with the occasional crack at lead. He has worked with D.T. and the Shakes, The Burnt Ernies, Girl Train, Disco Inferno, Spoonfed, Skelp, and Pup Tent. Musical frustration hit critical mass for Watts in the spring strumming through his back catalogue of unrecorded songs one night. He made a decision and a phone call, and things moved quickly from there. Two rehearsals in NYC and ten hours of studio time later the essential foundation was laid. Enter Blaine Misner the recording engineer and a blessing from the God of Rock. Blaine got it immediately on an almost psychic level. "His role can not be overstated" says Watts. Blaine is a powerful force in his own right. He performed a substantial amount of guitar work as well as some percussion work. Furthermore, his interest and active involvement with the project and sensitivity to budget restraints created a fantastic working environment says Watts. When not working in the studio, Blaine plays in the grindcore band, Three Faces of Eve.
When interviewed the often taciturn but periodically demonstrative Watts stated, "I wanted to tell a story in 33 minutes and to entertain people". When asked if he accomplished this goal he answered, "I don't know. I am far too close to it, but I had a wonderful time working with two geniuses. And the process was cathartic". When asked how he would describe the record, smiling stated, "Survival rock, maybe concept rock. No wait, I hope this rock record has its own unique experience in the mind of each unique individual who cares to give it a listen".
The Dusty Stars
From the little river in their hearts, they will ride the rapids of family, work & self-determination down to the tranquil waters of good clean upbeat family friendly music. This is not your grandfather's folk music; this is the evolving folk tradition of the New 21rst Century America, contemporary "People' Music" about taking a walk through the now & then . . .
Walking the line between folk & punk, between citybeat nightpop & sunshine field twang, between roses & flash, between the briar & the road . . .