Catscan!
MON AUG 28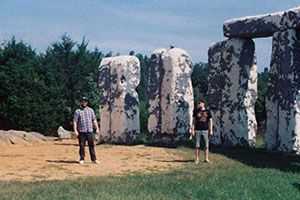 Catscan! is an electronic rock duo based out of Washington, DC. Two men, Mason Shelby and Paul Tsiaperas, experiment with unusual instrumentation and minimalist arrangements of mostly pop songs since the year 2000. They put out one new song every month at thecatscanwebsite.com
Cult Wife
Cult Wife is delusionally devout creep rock out of the swamps of New Orleans. This doom-ridden four piece is currently on tour supporting the release of the debut self titled EP you can find here at https://youtu.be/P7YhjASt_gc
Herschel Hoover
Herschel Hoover (guitar/vocals) studied classical piano and music theory at the Peabody Institute in Baltimore and has played guitar for over twenty years. He is a founding member of the art rock band, Chess Club Romeos. His influences range from melodic post-pop to scortadura. Herschel is currently writing, arranging and recording a 6-song EP, "Blue", and is performing shows to support the new material with drummers Lad and Whisky.
Trajectories
/ FACEBOOK
We all start out in life in very different places on a path that's mostly out of our control. It's what we do in our interactions with each other that ultimately decides where our journeys end up. This is how Trajectories formed in early 2016, when Michael Baxter of Last Tide and American Electric, and Javier Diaz, who plays in Spirit Plots and Club Scout, joined guitarist Fred Yi. The band draws influences from their hometown's Dischord-era heyday, and incorporates sounds from 70s and 80s pop and new wave. They have gone on to play shows and music festivals in the DC region. The trio is currently working on their debut recording.