Big Ups
TUE SEP 26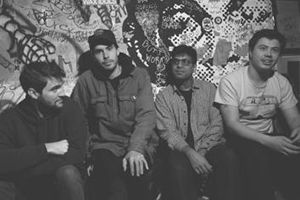 / OFFICIAL WEBSITE / TWITTER / FACEBOOK
The Brooklyn-based Big Ups blend punk, post-punk, metal, and indie rock into a salty mash that gets stuck to the roof of your mouth. At their brightest, they have been likened to The Descendents and Fugazi, but at their sludgiest, they call to mind bands like Pissed Jeans and The Jesus Lizard. They released their sophomore LP Before A Million Universes last year on Exploding In Sound.
The Effects
/ OFFICIAL WEBSITE / TWITTER / FACEBOOK
The Effects have Ian MacKaye's ear, and for fans of D.C.-style punk or post-punk, that's endorsement enough. Stacked with the bass player from Deleted Scenes and the vocalist from Faraquet, The Effects attribute much of their musical inspiration to our nation's capital, which also happens to be the city they call home. Though the group hasn't released a full-length yet, it's been releasing a single a month for a bit now... Drawing from all sorts of angular, jaunty D.C. acts like The Dismemberment Plan, Q And Not U, and even Fugazi, their sound consists of perfectly updated takes on the D.C. sound.
Two Inch Astronaut
/ OFFICIAL WEBSITE / TWITTER / FACEBOOK
The great Maryland hope coming straight from the slums of Colesville. Bad Brother is coming yo.

Since 2009 or so, Two Inch Astronaut has been a sometimes goofy sometimes totally humorless post-punk band featuring Matt Gatwood on drums, Sam Rosenberg on guitar/vocals, and Daniel Pouridas on bass.

Ever since then the band has churned out a steady ooze of releases, culminating in the forthcoming full length "Bad Brother" (Exploding in Sound) which features their standard breed of kinky inky angular whatever, only with more patience and knowhow than usual. Being that they were good pals long before they ever became a band, they should be continuing to bring their awkward and occasionally violently confrontational live show to wherever it will be housed. They've drawn comparisons to bands like Failure, Jawbox, Replacements, and Thingy among others.
Proper Nouns