Astronomy on Tap
TUE AUG 1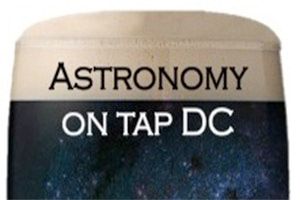 / OFFICIAL WEBSITE / TWITTER / FACEBOOK
Astronomy on Tap is a public outreach event featuring exciting talks about our Universe in a bar! Music, games, and prizes add to the festive atmosphere and foster interaction.

Beginning in a wine bar in New Haven, CT in 2012, and branded Astronomy Uncorked, this event expanded into NYC the following year as Astronomy on Tap and was hosted in a bar. Satellite locations quickly developed in the subsequent years in areas around the US and abroad. There are currently 13 regular Astronomy on Tap events in cities across the country, with other locations in development and a handful of "fly-by" events around the world. Started as a "fly-by" event in DC in 2014, Astronomy on Tap DC has now joined the ranks of a recurring member in the Astro on Tap constellation.
"Our talk line up for the night:
Shadow on the Sun: The Hype Behind the Solar Eclipse - Stephanie LaMassa (Space Telescope Science Institute)

Cassini's Grand Finale - Conor Nixon (NASA Goddard Space Flight Center)

20 Years of Roving Mars - Barbara Cohen (NASA Goddard Space Flight Center)

We'll also have telescope viewing on the rooftop bar after the talks, weather permitting."