Wild Cub [EARLY SHOW]
FRI SEPT 29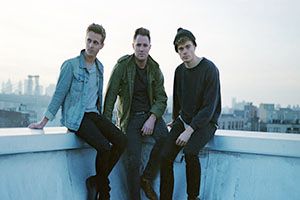 / OFFICIAL WEBSITE / TWITTER / FACEBOOK
Youth is a collection of captured moments... like moving photographs: late night drives, the limitless feeling of falling in love, the freedom of finding a true friend and co-conspirator in an immense world, the cool ocean meeting your toes on a hot summer's day. A simmering mix of bass, synths, drums, and frontman Keegan DeWitt's low and soft, yet urgent vocals, lead track "Shapeless" sets the evocative and cinematic tone that permeates the album. The taut dreaminess of "Straight No Turns" and "Hidden In The Night" evolve into sensuous, dancefloor-ready electro-pop, while "Jonti" – with its soaring, cathartic chorus "I see it now, it's brighter when the lights are out" – and "Wild Light" – all quirky, staccato organ and lyrical guitar-led charm – are playful art pop sing-alongs. The rich, melancholic soundscape of "Drive" highlights Youth's moody romantic atmosphere. Produced in collaboration with musician (Tallest Trees) and photographer Dabney Morris, and mixed with Ephraim Nagler (You Are Plural, The Velvet Teen), the album combines live takes and programmed sounds, and was recorded digitally before the files were run through a TASCAM 4-track tape recorder, often used for intimate home demos.
Formed in early 2012 by songwriter-composer Keegan DeWitt and multi-instrumentalist Jeremy Bullock, Wild Cub's debut LP 'Youth' was released last August in the US, and showcases the now five-piece band's dexterity in seamless transitions between infectious electro-pop, tropical rhythms, and quiet washes of cinematic reflection.
PASTE has called 'Youth' "full of small complexities that fill songs as they unwittingly slide into each other" and The Wall Street Journal's Speakeasy deemed Wild Cub one of '12 Acts to Watch' at the 2012 CMJ Music Marathon, while Entertainment Weeklyrecommended lead single "Thunder Clatter" as "clattering joyful noise." Press attention has continued with Nylon giving their 'Band Crush' stamp of approval, as well as video and track premieres on noted sites such as SPIN, PASTE, IFC, RCRD LBL, Refinery29 and more. A cover of Jessie Ware's "Running" & a remix of Atlas Genius' "Symptoms" brought increased awareness, the band's electrifying live show has established Wild Cub as a force.
Freshly into 2013, the band has seen the release of Youth in the UK, with notable press attention from Clash Music, The Guardian, The Line Of Best Fit ("Youth relentlessly offers up huge pop songs delivered with sheer gusto & intelligence"), and Top Shop ("sweet, tropically-tinged, dance-y pop"). Not ones to rest for long, the band recently performed at designer Rebecca Minkoff's NY Fashion Week show and burned through eight shows at this year's SXSW festival. Wild Cub's busy year will continue this summer with multiple festival performances – including at the Hangout Fest in May – and more touring to come.