Ms.Fridrich's Messy Ann Band
WED AUG 30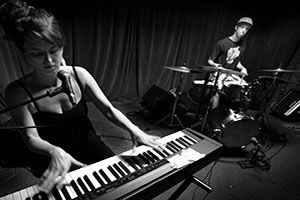 Ms. Fridrich's Messy Ann Band is fronted by pianist, singer-songwriter Sarah Fridrich, who collaborates with jazz-trained drummer Kirk Kubicek, as well as various local singers & horn players. They create music that has been compared to Regina Spektor and the Dresden Dolls. Fridrich and Kubicek strive to create catchy, off-kilter songs that are doused in rich harmonies and energized with rhythmic interplay between the piano and drums.
Fridrich and Kubicek recently played shows from Seattle to DC, across the Western mountains and Mid-Western farmland, on their 2016 fan-funded "Lighter Bones" Tour. The co-billed an all female-fronted bands tour of the Northeast in March, with FuzzQueen (DC). And, this Fall the duo will tour cross-country again to support their 4th release "Last Brick Laid", an EP which was produced by Stephen Russ, of The Fire Tonight (Atlanta/DC) and Bal Boheme (DC), and recorded to tape in one weekend with Mike Reina at his acclaimed local studio, The Brink.
Fridrich has previously released two albums of original music: a self-titled EP in 2007 and You Call That Brave in 2011, with drummer Dan Marcellus. Ms.Fridrich's Messy Ann band released their Lighter Bones album in September 2016, with Kubicek in the drum seat. In 2009, Fridrich was awarded an Individual Artist Grant by the Montgomery County Arts & Humanities Council; Fridrich's original song "Anvil" was recognized as a Finalist in the 2011 Mid-Atlantic Song Contest. Most recently, the Ms. Fridrich's Messy Ann Band 2015 single "Brighter" won Honorable Mention from the 2015 Mid-Atlantic Song Contest.
The Beanstalk Library
Ryan Walker is the primary songwriter behind the Washington, DC-based band The Beanstalk Library. On their new full-length album THE VIEW FROM HERE, as well as on their acclaimed debut AMERICA AT NIGHT, the band injects classic pop and roots influences with a healthy dose of adventure and experimentalism.
"For fans of Big Star and Teenage Fanclub...songs like 'Fake It' and 'Elephantitis' burst out of the speakers, bright and jangly guitars at the forefront, supported by piano, horns and cascading backing vocals. 'America At Night' is rooted more in classic rock than nineties alt-rock and that helps give the songs a timeless feel--well-written, well-performed...extremely tuneful and immaculately produced." -David Malitz (Washington Post)
"...as wholesome and American as a warm apple pie in a green field during the summertime, only they rock a little harder." -Consequence of Sound
Ilyaimy
"Percussive, rhythmically driven guitar that freely composites fingerpicking, classical melodies, running bass lines, harmonics, and hard-charging chords. [Rob's] vocals are needled and gaunt, with the jittery energy of a dockyard stray on speed."
"Acoustic grunge band ilyAIMY have been touring the country for fifteen years... From the energy they displayed for the audience, to their sheer talent and musicianship… comprised of fast melodies and faster guitar licks, gorgeous harmonies, and witty lyrical content. Each song left the listener in anticipation of the next. The two covered a wide range of topics, from politics to Sci-fi novels! When performers truly love what they do, and believe in their art with a passion, one can't help but to sit in awe and experience the moment." - Christine Harazim (Nashville Offbeat)