Dreamer and Son
TUE AUG 29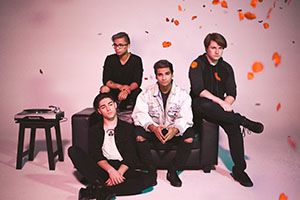 Dreamer & Son is a dreamy alt-rock quartet from Boston, MA. forming in 2015. This collective came together from across the United States to chase a hauntingly similar dream. With their authentic, unique take on rock music, they aim to break down the barriers of genre. Fans of artists from The Killers, to Moose Blood, to Walk The Moon will all find something familiar in their ambient verses, memorable hooks, and explosive live performances.


Acadia
Out of Portland, Maine comes an indie/alternative quintet that, if you aren't listening to, you should start listening to immediately.

Acadia is a 5 piece Indie/Alternative band out of Portland,ME/Boston MA - comprised of Ben Wilson (Guitar/Vocals), Drake Thompson (Drums), Mike Dunham (Lead Guitar), Jameson Trudel (Vocals), and Steve Luciano (Bass). The group completed the recording of their EP titled In Focus at The Halo Studios with Producer/Engineer Kevin Billingslea. The EP was Mastered by Grammy award winner Adam Ayan at Gateway Mastering. An impressive bit for the 6-track EP, but that isn't all that Acadia has been up to.
Elizabeth II
Elizabeth II is a dynamic and punchy rock and roll band from Washington DC. With an eclectic Stevie Nicks nostalgia blended with a new age youthful edge, Elizabeth II combines thunderous vocals with bluesy guitar riffs driven by pulsating rhythms.

Beth Cannon of Elizabeth II is a rising guitar force in the local DC music scene. Pairing bluesy BB King styled licks along with the Contemporary solo styles of Steve Vai, She's earned praise from world class guitarists like Nick Johnston and Kevin Thrasher (Escape the Fate). Her original songs and covers are driven by her powerful bluesy vocals backed by her exquisite rhythm and leads.


Kid Brother
Kid Brother is an independent band from Northern Virginia, founded when the celestial space gods called upon Chris, Dylan, Lindsey, Sam, and Christian to go forth and create a band in the spring of the year of our lords, 2016. Focused on originality and genuine lyricism, Kid Brother fuses together elements from rock and roll, indie, folk and blues to create a sound that is their own.