Boy Harsher
SUN OCT 29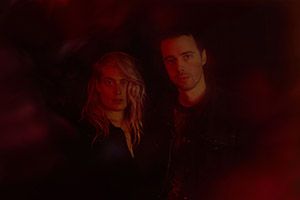 / OFFICIAL WEBSITE / TWITTER / FACEBOOK
BOY HARSHER is a dark electronic duo that produces gritty dance beats infused with ethereal vocals, creating a sound that is eerie, intense and incredibly danceable. Augustus Muller develops the underbelly of sound with minimal beats and grinding synths, where Jae Matthews whispers, screams and chants on top. Together, the music created is somewhere between industrial, drone and confessional storytelling. Muller and Matthews both have a strong background in film and their cinematic approach translates effectively in both their recordings and live performance.
Boy Harsher started in early 2013 under the name Teen Dreamz. The project was based on short stories written and read by Matthews then live scored by Muller. As the project matured the instrumentals became more dance influenced and Matthews' delivery became more dynamic and spontaneous. In January of 2014 Teen Dreamz took on the moniker Boy Harsher.
Yr Body is Nothing, Boy Harsher's debut LP, was released by Atlanta's DKA Records in June of 2016. The LP has been described as a "darkly beautiful and very emotional new record" by Gorilla Vs. Bear and as "highly danceable fantasy narratives of desire and nuanced discomfort" by Decoder Magazine. The album was recorded at home in Northampton, Massachusetts with additional recording and final mixing done at Dollhouse Studios by Peter Mavrogeorgis. The first pressing quickly sold out and a 2nd pressing was released January 2017 ahead of Boy Harsher's US tour.
Their first EP was mostly recorded at home in Savannah using small collection of cheap synthesizers. These recordings were fleshed out in the studio under the guidance of veteran engineer and producer Peter Mavrogeorgis at Dollhouse Studios. After a short, but productive mixing and mastering session Boy Harsher completed their EP Lesser Man. Lesser Man was originally released by Savannah's Soft Science on small run cassette. St. Paul's Night People re-released Lesser Man in April.
Boy Harsher currently resides in Northampton, Massachusetts.
Technophobia
Hailing from Washington, DC, Technophobia has emerged with a sound that reaches back to the early days of EBM and darkwave, yet continually pushes forward. Using hardware and analog synthesizers, Katie and Stephen use a classic approach of layering, sound manipulation, effect processing, and heavy sampling to create their unique sound. The keystone and defining quality of Technophobia is Katie's vocals. While being melodic, powerful, and poetic they take a pop centric approach to their song writing setting them apart from most in their genre.
Technophobia is a powerful live act. Mixing their strong sound with visuals and lighting they create an atmosphere that matches the intensity of their performance. Technophobia has had the good fortune of play with some of the most seminal bands in their genre: Skinny Puppy, Laibach, Cold Cave, Youth Code, and Douglas McCarthy.
Technophobia's full length LP Flicker Out and 12" single Negative Space were released in the summer of 2016 on Working Order Records.