The Mynabirds
WED SEP 20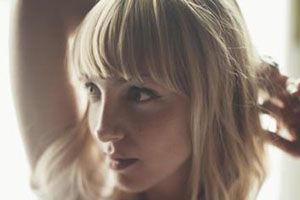 / OFFICIAL WEBSITE / TWITTER / FACEBOOK
American singer-songwriter Laura Burhenn is a shape-shifter who can't sit still. Since 2010 she's worked under the moniker The Mynabirds, releasing three critically acclaimed and stylistically different albums on Saddle Creek: What We Lose in the Fire We Gain in the Flood (2010) and GENERALS (2012), both produced by Richard Swift, and Lovers Know (2015). She has also toured as a member of the Postal Service (2013) and Bright Eyes (2011), helped found Omaha Girls Rock (a non-profit helping young girls find their voices), and in 2013 gave a TED talk based on her "New Revolutionists" portrait project, exploring what it means to be a revolutionary woman in this day and age. Before the Mynabirds, Laura was a member of DC indie band Georgie James with Q And Not U's John Davis, and also put out two self-produced solo albums on the label she founded herself, Laboratory Records.
The Mynabirds' new album, BE HERE NOW, is a collection of 9 songs written and recorded in just 2 weeks in January 2017 following the Inauguration and the Women's March. Singer Laura Burhenn worked with producer Patrick Damphier in his Nashville studio (which he was being evicted from to make way for luxury condos) to document the news and peoples' intense emotional responses to it all in real time. No stranger to politics in her songwriting, Laura aimed to speak from the voice of the collective consciousness in a work of "Emotional Journalism," singing the heartbreak, anger, exhaustion and resolute hope she witnessed during the Muslim travel ban, the final stand at Standing Rock, and every other news story that rattled America in that period. The album vacillates in style and feel to reflect a frayed nation, featuring a Burundian refugee choir on one song, and a cacophony of dissonant saxophones in a new national anthem on another. It is the last recording made in that space.
BE HERE NOW is being released very quickly as 3 digital EPs over 3 months to emphasize the immediacy of the songs. It will culminate in an official full album release on Saddle Creek in the summer of 2017.
Luke Rathborne
/ OFFICIAL WEBSITE / TWITTER / FACEBOOK
Madeline Kenney
Raised in the Pacific Northwest, the nature of the region is important to songwriter Madeline Kenney. A soil-tethered root to the natural world is subtly noticeable in Kenney's art. Bare feet, fresh fruit, the brilliant moon. Despite her affinity for the green leaves and the black grass, Kenney has lived rather nomadically, transferring her being and belongings for long stays in the mountains of British Columbia, the islands of Hawaii, and around the globe. She moved to the Bay Area in 2014 to pursue a career in baking. In Oakland, a supportive arts community inspired great growth as a musician. A chance encounter with Company Records label head Chaz Bundick (Toro Y Moi) led to them recording the Signals EP together, along with Kenney's brand-new album, Night Night At The First Landing. An accomplished debut with a cohesive sound, Night Night is a record balanced by serene beauty and cathartic breakdowns. Kenney's huge voice delivers emotional brushstrokes and unexpected lyrical knots.
It's fortuitous how her move to a waterside city for a life of pre-dawn kitchen work led to preparations for life on tour and inspired countless hours of music-making. "Everything has felt very accidental," she says. Though Night Night At The First Landing is technically her first full-length, music has always been a key part of her life. Singing came naturally to the bold-voiced Kenney and she was singing loudly before beginning to study piano at the age of five. To call Night Night At The First Landing a "debut" is something of a misnomer, as those who know Kenney best might note: she's always made music. For the sake of music lovers, she hopefully always will.