Weaves
SUN OCT 15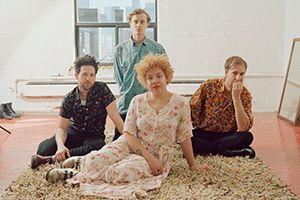 / OFFICIAL WEBSITE / TWITTER / FACEBOOK
In a little over two short years, Weaves have gone from a collection of voice memos on Jasmyn Burke's iPhone to establishing themselves as one of the most stridently individual acts to emerge from Toronto's fertile and multifaceted DIY scene. Led by the collaborative efforts of Jasmyn Burke and Morgan Waters, the band have built a devoted audience while capturing the attention of the international media with a brand of ebullient, art-damaged pop music as difficult to categorize as it is to ignore.
The group began in a series of sessions in the bedroom of Water's Chinatown apartment, where Waters and Burke would record increasingly elaborate demos built from Burke's phone full of songs. They transitioned to a full band line up in late 2013, adding bassist Zach Bines and drummer Spencer Cole, and quickly set to work recording their debut EP which was released on Buzz Records in the summer of 2014. The EP made an immediate splash, garnering praise from Noisey, Rookie and Spin, and earning Weaves a "band to watch" tag from Rolling Stone. Glowing write ups of the band's performances at that year's CMJ from The Guardian and NME followed, cementing Weaves' reputation as one of the year's most exciting new bands.
Word continued to spread in 2015 with the release of their single "Tick," ahead of the band's first European tour, which included dates with Hinds, Dan Deacon and Pissed Jeans, and appearances at Glastonbury and Iceland Airwaves. With their already sterling live show only sharpened by their time on the road, the band returned to CMJ in October and emerged as one of the hottest acts of the festival, earning "best of the festival" write ups from NPR and The New York Times among others, and further building the anticipation for their forthcoming full length.
Weaves have been working on their debut LP for almost as long as they have been a band, tracking with Leon Taheny (Dilly Dally, Owen Pallett, Austra) in sessions that span most of the last two years. Mixed by Alex Newport (Death Cab for Cutie, Melvins, At The Drive In) and mastered by John Greenham (Death Grips, Sky Ferreira), the result is an album that traverses the band's history, exploring every facet of their always adventurous approach to pop music and leaving no idea unexplored. The band toured the US, Canada & Europe for over 6 months in 2016, including support runs with Mitski, Sunflower Bean, Beach Slang & Dilly Dally and a slew of summer festivals (e.g., EOTR, Latitude, etc…); and culminating in a 2017 JUNO nomination for best Alternative Album Of The Year. Filled beyond bursting with hooks and possibilities, Weaves possess the sound of a band propelled forward by the thrill of discovering the limits of their sound and gleefully pushing past them.
Tancred
/ OFFICIAL WEBSITE / TWITTER / FACEBOOK
Though technically the band's third full-length, Out of the Garden is Tancred's first truly cohesive record: a mission statement that underscores the "power" in power-pop and is punctuated by lyrics as razor-sharp as the hooks.
Written over a two-year period during a break from touring, the album's emphasis on re-defining feminine expectations was shaped by primary songwriter Jess Abbott's experiences living in Minneapolis and working at a liquor store in a rough part of town.
"I learned how to speak up when I needed to and how to truly be myself without reservation," Abbott recalls. "I felt afraid walking home at night, and after a couple of months I just got sick of it and started getting into selfdefense and self-empowerment as a means of coping. Finding my own strength changed everything."
After writing and tracking every song in her apartment, Abbott (also of beloved Minneapolis trio Now, Now) enlisted Kevin Medina and Terrence Vitali to add drums and bass to her demos. The band then traveled to LA to record with OFF! bassist Steven McDonald and That Dog vocalist/guitarist Anna Waronker.
Both producers proved to be the perfect collaborators, with each elevating the final takes via their specific areas of expertise — Waronker helped Abbott achieve the raw vocal attitude exhibited on songs like the seething "Hang Me," while McDonald orchestrated the tailor-made guitar tones and trashy drum sounds highlighted on standouts like "Joey." As a result, Out of the Garden showcases Tancred shedding its former skin in favor of a bolder and infinitely more confident sound.
Opener "Bed Case" bolts off the starting block with a guitar salvo straight from the '90s before "The Glow" ups the amperage with crunching riffs and pummeling distortion. Soon after, smooth as silk "Sell My Head" serves up a chorus so intrinsically catchy you'll already be singing along the second time around. As Abbott reveals, "I wanted these songs to sound sickly sweet, with a looming, gory shadow behind them. Sugary, but when listening closely, unsettling."
This juxtaposition is presented flawlessly during the chorus of "Pens" when Abbott sings "I'm insanely healthy in my head / It's crazy how stable I am" amidst a background refrain of "oohs" and "aahs." While your head reflexively bobs along to the melody, your brain is compelled to decode the ominous double meanings embedded in her cleverly chosen adjectives.
Her fearlessness to discuss these and other personal topics is referenced in the album's title, an allusion to exiting Eden and leaving behind all the restrictive cultural norms ingrained in the Biblical "paradise": tradition, purity, holiness, binary gender, heterosexuality, and the idea that anything is forbidden (especially for women).
Says Abbott, "Out of the Garden represents doing what you want, what you need, without letting anything or anyone stop you — and smiling while you do it."