Racquet Club
WED OCT 18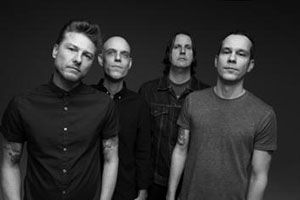 / FACEBOOK
A few years ago, Blair Shehan was burnt out. His highly respected rock band The Jealous Sound released 'A Gentle Reminder' on Rise Records in 2011 but although the album was well-received and the band toured with acts like Death Cab For Cutie and Sunny Day Real Estate, they never really hit their stride. Then something unexpected happened: Shehan's previous act Knapsack starting playing shows again and he immediately rekindled a musical and creative partnership with the band's guitarist Sergie Loobkoff, who was also a founding member of Samiam. "The Knapsack reunion was a real gift for me because there was no pressure and it was just for the fun of it," Shehan recounts. "Sergie and I started talking about writing new music together but as soon as we began we knew that this was going to be a different beast altogether."
Racquet Club's lineup also features The Jealous Sound drummer Bob Penn—whose sweetly syncopated drumming never sacrifices raw power—and new bassist Ian Smith, who was previously a touring member of the Bravery and happened to be a neighbor of Shehan when he was looking for a bassist for the project. However another big player in the existence of Racquet Club was Rise Records' owner Craig Ericson who immediately saw the potential in these songs even in their earliest form. "Craig knew what we were doing and sent me an email saying that he wanted to put out the record and that instantly gave us a tangible goal to work toward," Shehan recounts. "I had to think about it because in order to do this well I would have to really show up to the artistic process. It had to be my priority. I knew it was going to shake my life up."
"My hope was that the sound of this band would be familiar but show significant growth as well," he continues. "Everyone in this band contributes ideas and for this record we really tried to break some of our habitual writing patterns and let the best ideas win." With that in mind, the perfect person to eventually record these songs was another collaborator from their collective past, Alex Newport (Bloc Party, Frank Turner), who recorded Knapsack's final album This Conversation Is Ending, Starting Right Now back in 1998 and went on to produce albums for their peers such as At The Drive-In. "Alex had moved back to Los Angeles and was the obvious choice," Loobkoff recalls. "With weeks of rehearsal and pre-production and two years of writing behind us, we were probably more prepared for this album than any album any of us had done in the past," he continues. "We really concentrated on the songwriting; a lot of that spark has to come from Blair and then we all added our parts and eventually it turned into what you hear now." Simply put, Racquet Club is a breathtaking rock record that will appeal to fans of the members' previous projects but also stands on its own as something singularly impressive. From the driving pop perfection of "Let Beauty Find You" to the stripped-down power of "Blood On The Moon" and melodic moodiness of "Boundaries," these ten songs are like different shades of the same color--and together they paint a picture that's more hopeful than anything Shehan has penned in the past. "The records that I've done in the past have really been reactions to chaos in my life and the guilt or hurt that came along with them," Shehan explains. "I'm still dealing with those tendencies but now rather than focusing on the chaos I'm focusing on solutions and those small victories."
In other words when Shehan sings, "Get out of your own way, get out of your head" it's a reminder to not get caught up in the self-doubt that plagues so many of us. However while the songs mainly come from Shehan, they wouldn't be nearly as dynamic without the other members' contributions and correspondingly Racquet Club showcases some of Loobkoff's most inventive playing to date. "Sergie has an incredibly deep sonic palette and a fluid almost '70s rock sensibility so it was really fun to work together and build something where I'd be like, "Wow, what were you doing there?" Shehan says. From the chiming harmonics on "Blood On The Moon" to the descending melodic lines on "New Granada" the songs on this album see all of the members stepping outside of their comfort zones to create something that grows more compelling with each listen.
That's not serendipitous, it's because every note on Racquet Club was carefully constructed and labored over. "Making this record together was a struggle at times and there was a lot of self-doubt on Blair's part but we pulled it off," Loobkoff summarizes. Shehan echoes this sentiment adding, "For me making this record was a challenge in a lot of ways and just completing it makes me feel so good. In life you get these moments where you realize your goal is worth taking a chance on because once you accomplish it you can walk upright in the world knowing that you did your best." In the end, the very act of creation is what makes Racquet Club a success--and the songs speak for themselves in a way that will stay with the listener long after the album has ended.
Jared Hart (Full band)
/ TWITTER
Teen Mortgage
/ OFFICIAL WEBSITE / TWITTER / FACEBOOK
Teen Mortgage is a trash punk duo based in Washington DC. They began performing in January 2017. Since then, they have frequented venues in the DC metropolitan area supporting acts like Big Business, Surf Curse, Ron Gallo, Ian Sweet and Acid Dad. The duo released their debut EP, Strange Times, through Wiener Records in May 2017.