And The Kids
SUN NOV 5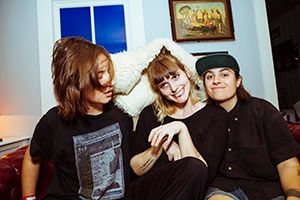 / OFFICIAL WEBSITE / TWITTER / FACEBOOK
Growing up, often the safest haven to plot your dreams and get a handle on your identity is within the confines of trusted friendships. For the musicians in the critically acclaimed band And The Kids, these bonds have been a life raft.
But as friendships evolve from adolescence to young adulthood, sometimes the lines between friends, lovers and all that comes in between can grow murky. On the Northampton, MA-based band's latest, Friends Share Lovers (out June 3rd on Signature Sounds), And The Kids examines blurred boundaries in close-knit relationships.
"The friends we grew up with were troublemakers, lost souls, dropouts, and mother figures," says And The Kids guitarist and vocalist Hannah Mohan. "The title references the incestuousness of friend groups and how things get messy."
And The Kids channel existential crises into pop euphoria. With this sleight of hand, the quartet manages to conjure chunky indie rock, blissful new wave, chamber folk, jarring avant-garde, and brawny classic rock. Mohan navigates this expansive creativity with aplomb. Effortlessly she swoops heavenly for high tones, digs deep for swaggering rock n' roll low tones, and manages to mash up sweet sass with new wave bliss for a vocal feel that masks sage wisdom beneath sweet innocence. In addition to Mohan, And The Kids is Rebecca Lasaponaro on drums, Megan Miller on synthesizers and percussion, and bassist Taliana Katz.
The quartet's beginnings couldn't be better scripted: Mohan and Lasaponaro met in band class in seventh grade. A few years later, the duo dropped out of school and found themselves at a learning center that provided them with a free rehearsal space. There they practiced everyday, inspired by such diverse artists as Modest Mouse, Rilo Kiley, The Doors, and The Police, among others.
Those formative moments in friendship and music have been everlasting. In 2012, the fledging duo met Meghan when the three were interns at the Institute for the Musical Arts in Goshen, MA, and soon after welcomed her into the band. Recently, Miller has battled visa problems as a Canadian citizen and has been forced out of the United States for five years. To show the strength of their bonds as friends and artists, And The Kids chose to record Friends Share Lovers in Montreal so that Miller could participate. Recently, the trio added bassist Taliana Katz, a close and trusted friend who also attended IMA, to maintain a full sound live in Miller's forced absence from American touring.
For four years, And The Kids has worked tirelessly to nurture its artistic vision and finesse its live performances. The band has gone from basement shows, open mics, and gigs at pizza joints to becoming an "on the verge" artist. And The Kids has released two EPs, two full-length records, and shared the stage with Rubblebucket, Sallie Ford, Lake Street Dive and Mother Falcon. Recent and upcoming live performance highlights include SXSW and a tour with Ra Ra Riot and PWR BTTM. The band will head out on a headlining tour in June bookended by summer festival dates. Along the way, And The Kids has garnered acclaim from NPR Music, The Wall Street Journal, and The Boston Globe, among many others. Indie tastemakers Pitchfork enthuse: "And the Kids are among the Western Mass. indie scene's brightest creative lights."
Friends Share Lovers is an epiphanic entry in the band's catalog as it showcases the group's roiling emotionality in wider artistic palette settings. This album explores the power of sound sculpting with studio effects like reverb, majestic keyboard passages, and stacks of pillowy vocal harmonies.
Ironically, the songs on Friends Share Lovers began as compact compositions with spare instrumentation. With keyboardist and percussionist Miller stranded in Canada, Mohan and Lasaponaro workshopped their new material as a duo. But, when it came time to record, they chose Canada as a show of solidarity to their bandmate Miller. With Miller on board and their sights set on Canada, they tapped producer Jace Lasek, a member of The Besnard Lakes who has produced albums from Suuns and Land of Talk, and has mixed and recorded for Wolf Parade, Sunset Rubdown and Patrick Watson. Lasek came on as a co-producer, collaborating with And The Kids and helping the band realize its sonic aesthetic on the album.
Friends Share Lovers bursts forth with the pent-up emotionality of the opening track, aptly titled "Kick Rocks." Here drum climaxes interlock with hypnotic harmony vocals, building a tension that crashes like a wave cresting, leaving in its wake glassy flowing melodies. The thematic thread of relationships imbues the new wave elegance of "Friends Share Lovers" and "I Can't Tell What The Time Is Telling Me." The title track evokes a Smiths-like juxtaposition of balmy musicality set against poetic turmoil as Mohan wrestles with the complexities of a friendship sliding into a romance. The stunning "I Can't Tell What The Time Is Telling Me" envelops the listener with chiming guitars, oceanic synth textures, and sidesteps into classical melodic motifs. "That track is about getting through tough times with a new partner. It's about being true to yourself after you've fallen in love," Mohan explains.
Closing the album is the ethereal "Pennies, Rice." It's a meditative track that rolls out slowly with measured grace. In some ways, it's something of a conceptual centerpiece. "This track is about having all the freedom in the world, but the only thing holding you back is your indecisiveness," Mohan reveals.
Friends Share Lovers is that pivotal release, the follow up to a well-received album from a promising young band. The new album showcases And The Kids' considerable powers manifesting into a triumphant record that justifies the earlier praise. However, for the members of And The Kids, the impact that matters the most to them is the bonds they make with their audience. To that end, Mohan says: "What's been most meaningful is realizing what a big influence a small band can have. We see women at the shows who say they want to play music and that we inspired them to do what they love."
Kalbells
NNA is overjoyed to unveil 'Ten Flowers,' the debut album from Kalmia Traver's solo venture Kalbells. Nearly a decade of tireless and dedicated work on writing, vocal, and saxophone duty with her euphoric art-pop band Rubblebucket has given Traver a wealth of musical strength and experience, inspiring fans across the world to be proud of who they are and let their individualism shine through. In recent years after coming face-to-face with some strenuous life hurdles, including an experience surviving cancer, Traver decided to engage in a period of creative personal retreat in order to focus on writing new music. Instantly finding the process to be deeply cathartic and healing, she emerged with not only an important sense of self-discovery, but an abundance of new songs as well - and the genesis of 'Ten Flowers.'
By opening up the floodgates for inspiration and personal expression, Kalmia found a voice for her music that largely reflects her unique personality - a colorful world filled with imagination, wonder, honesty, light, and no shortage of gorgeous melody and harmony. After assembling a self-recorded demo of songs using voice, electronics, pocket synthesizer, and other musical odds and ends, Traver teamed up with singer, songwriter, producer and fellow Vermonter (and NNA Tapes artist) Ryan Power to enter the studio and make 'Ten Flowers' a beautiful reality.
A largely electronic record, 'Ten Flowers' creates an environment that is lush and vivid with warm, purring synthesizers, arpeggiated embellishments, and deep palpable bass tones. However the organic touch of humanity is still very present, integrating plenty of environmental recordings, percussion, woodwinds, tapping, clapping, and whistling that bestows the songs with a unique playfulness. These predominantly metronomic compositions are conducive to finding one's personal groove, encouraging dancing throughout a variety of tempos and instilling the album with invigorating momentum, aided by the contributions of drummer Ian Chang (Son Lux, Landlady) on several occasions. The backbone of these songs is of course Kalmia's distinctive voice, one that is delicate, vulnerable, and tender, yet at the same time self-assured, dynamic, and powerful in spirit. The intricate layering of vocals unleashes cascades of glorious harmony that coexist comfortably with the rich instrumental melodies that envelop each song. Her lyrics are able to communicate the diverse emotional currents of the human experience through a genuine poetic sentiment. Circling around themes of self discovery, empowerment, and the quest for unity inside & out, the lyrics acknowledge and face hardships by finding the light and beauty inside of them, and they rejoice in the freedom that comes with acceptance of mystery.
'Ten Flowers' stands out not only in the NNA discography, but amongst the current droves of contemporary music as well. Traver's natural talent, in conjunction with her seasoned experience, exude musical confidence and demonstrate a willingness to embrace a multitude of influences. The result is an individualized style that refuses to be compartmentalized, and transcends modern day genre corrals. The spirited collaboration between Traver's imagination and Power's detailed production talents has birthed an album that invites one not just to listen to it, but to spend time inside of it, be enveloped by it, and find something new with each repeated visit. You just may end up learning something about yourself. Kalbells' debut is a testament to the power of music to heal, and to achieve personal liberation. It is also an ode to the courage to explore oneself, to plant sweet, healing seeds that might blossom into fully unique work, a pure expression of self that is open, accepting, and bound by love.