The Band CAMINO
FRI NOV 17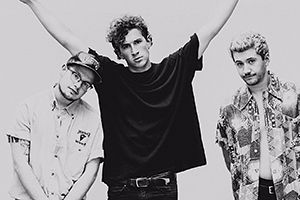 / OFFICIAL WEBSITE / TWITTER / FACEBOOK
After stumbling upon their own potential as a band when 'accidentally' writing their first song together, the formation of the The Band CAMINO was inevitable. The Memphis boys played their first show together in September of 2015 at a local fairground. The Band CAMINO has acquired a loyal hometown fan base that seems to be widening exponentially, as the band's top cities of online listeners are now Manhattan, Los Angeles, and Chicago. Furthermore, their most popular song, "The Black and White" charted at #36 on the Spotify US Viral Top 5, while other songs have been feature of Spotify's "Indie Pop," and "Feel Good Indie Rock" playlists. The band's captivating live show has resulted in a flood of opportunities for the band including a live performance on AudioTree Live and a performance at Beale Street Music Festival. The Tennessee natives are set to release a third EP sometime in early 2018.
The Wldlfe
/ OFFICIAL WEBSITE / TWITTER / FACEBOOK
the wldlfe are an indie-alternative band out of Indianapolis, IN . They released their debut EP "New" on March 3rd of 2016. Since the release, "New" has received over 1,600,000 streams on Spotify. The Wldlfe have also been featured in multiple online publications such as Local Wolves, Pup Fresh, Impose, and Tuned Up. On September 1st of 2016, the wldlfe released a single entitled, "Text Me?". "Text Me?" received warm reception, and has gathered over 200,000 streams on Spotify. A single for their highly anticipated second release, "ILY", entitled "Oversentimental" was released on January 13th of 2017 and has accumulated over 250,000 streams since its debut. "ILY" was released on February 17th of 2017.
As young souls, the wldlfe want to bring music a more honest quality by telling stories through their lyrics while keeping catchy melodies in the fold. This is a group to be looking out for as they begin their ascent to the top of their class.