HALLOWEEN: TNX Occult Acid Freakout
SAT OCT 28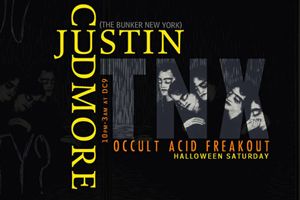 hosted by: The NeedlExchange
Everything is completely fuc%ed so we might as well freakout together. On Halloween Saturday, The NeedlExchange interupts DC9 w/ a scrambled transmission from The Bunker, New York's Justin Cudmore, the quiet psychedelic behind some of the past 2 years most arresting house and techno music released on esteemed labels Honey Soundsystem Records and The Bunker New York. Justin's 2016 12" "Crystal" release quickly became an underground sensation, ripe with shades of 303's and a nod to the brighter side of acid house. Cudmore followed that heavy hitter with 2017's "Forget It' EP (The Bunker, NY), an assembly of flanged bass, scalpel-cut acid, vocal snips and choppy synths.

All four TNX residents on freakout support throughout the night.

DC9 is one of the cities oldest fringe institutions, outiftted with a dedicated, raised dancefloor and a wall to wall Void Sound System.
Special Guest: Justin Cudmore (The Bunker, NY)
/ OFFICIAL WEBSITE / TWITTER / FACEBOOK
Techno producer Justin Cudmore's coming-of-age as a fan and creator of dance music happened amidst the wide expanses of central Illinois. As a kid growing up in the state's tucked-away capital of Springfield, he played the drums at home and in school as a jazz percussionist. But where most of his peers were tuned into pop music, Justin was wearing out self-made mixes and classic disco compilations. Then as a student in the college town of Champaign Justin dove further into electronic music, workshopping new-wave influenced beats in bands and DJing parties, primarily at the club night Physical Challenge, which he started in 2007.