Jen Cloher (SHOW MOVED TO ROCK & ROLL HOTEL)
THU FEB 1
all ages
SHOW MOVED TO ROCK & ROLL HOTEL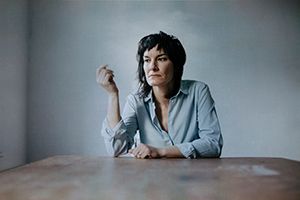 / OFFICIAL WEBSITE / TWITTER / FACEBOOK
The JEN CLOHER show on February 1st has moved to Rock & Roll Hotel.
Please visit Rock & Roll Hotel for more info.
All DC9 tickets will be honored.
For all ticket holders that cannot attend the Rock & Roll Hotel show, you have 7 business days for a full refund at your point of purchase.
Jen Cloher's 2013 album In Blood Memory marked the beginning of a new era for an artist who'd spent almost a decade as one of the country's best folk-leaning singer-songwriters. Backed by a formidable trio (Courtney Barnett, Bones Sloane and Jen Sholakis), In Blood Memory is in turn grittier, groovier, more beautiful and more devastatingly honest than any work she's produced before. It was shortlisted for that years Australian Music Prize (Australia's most prestigious music award) -- and rightfully so. When not running her label Milk! Records (Courtney Barnett, Loose Tooth, Fraser A. Gorman and more) Cloher has been working on her fourth record -- due to be released later in 2017.