Pathways to Housing DC presents: Benefit For The Homeless
MON NOV 27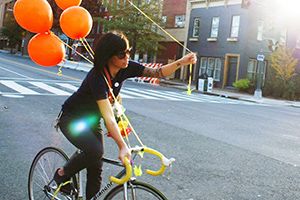 Happy, Joyous, & Freewheling: 

This show is dedicated to the memory of Kaleena Porter. She will always be an incomparable friend and inspiration. Kaleena taught many of us how to get up & get back on the bike. You can support her family and pups here.
Proceeds from the show will go to a collaboration between Pathways to Housing DC and Happy, Joyous, and Freewheeling. This new program will assist individuals experiencing or exiting homelessness. Participants will receive education in building and maintaining bicycles, bike tech certification, their own bike, and assistance with finding employment working with bicycles.
Pathways to Housing DC
 provides home, health, and hope to more than 3,000 individuals who are experiencing or at risk for homelessness. The people they serve face serious physical and mental health challenges.  Many have lived in shelters, jails, psychiatric institutions, and on the streets for prolonged periods of time. Pathways to Housing DC empowers these individuals to take control of their lives by providing housing first, followed by intensive, wrap-around, client-driven support services. Their teams of psychiatrists, nurses, peer support specialists, case managers, social workers, employment specialists, and certified addictions counselors teach life skills and provide comprehensive support in the recovery process.  Since 2004, they have ended chronic homelessness for more than 750 individuals in our nation's capital.
Happy, Joyous, and Freewheeling (HJF) is a 501c3 non-profit incorporated in the District of Columbia. They believe in mastering bicycle maintenance as a means of empowering underserved populations to achieve self-reliance, employability, transportation, improved health, community and personal well-being. HJF strives to improve the lives of young people and adults from lower income households by building bridges to the local bicycling community in the DC metro area. They promote activities and programs that build life skills, encourage physical health, and promote positive values.
The Sniffs
The Sniffs are a punk band from Washington, D.C. They started in 2011 playing garage punk but have since embraced other influences including post-punk, hardcore, noise, free jazz and drum and bass.
Small Time Thieves
Hard rock quartet Small Time Thieves is garnering local popularity by mixing aspects of vintage punk, classic rock and modern stoner metal. The band's all-original set borrows from a Fugazi-like post-punk aesthetic and a Seattle-grunge swagger to produce a familiar-yet-distinct sound. Guitarist Kurtis Ceppetelli's cerebral lyricism layers over the full throttle and melodic sound of bandmates Tyler Bergin (Bass), Glenn Sleasman (Guitar), and Christopher Peli (Drums).
the Grey A
the Grey A is a DC based band and artist who's first full length album, My Country, sounded off about income inequality, political tribalism and the climate change to come. Recorded in Nashville, the album has been well received by both NPR and No Depression. The brainchild of songwriter and Texas native Grey Jacks, the lineup includes Cedar Knoll Restaurant owner Andrew Holden on drums, Arlington studio owner Howard Rabach on bass, and award winning songwriter Kevin Dudley on guitar. The band plays a mix of original folk rock music mixed in with familiar cover songs.
DJ Jprez
Jeff Perez is a DC native. He will be holding it down on 1 2s on the roof.