A Sound of Thunder
THUR JAN 18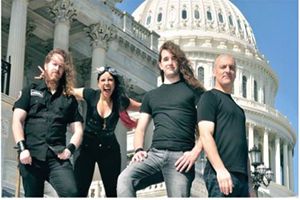 A Sound of Thunder delivers a unique and exciting blend of classic heavy metal, progressive, and rock. The young upstarts from Washington, DC pay no heed to trends, focusing on quality songwriting with memorable melodies and riffs that stand the test of time.
Founded in 2009 by Josh Schwartz and Chris Hare, the band was later completed when Nina Osegueda on the vocals an Jesse Keen in bass guitar provided dynamics characterized by the band's sound and performance.
After releasing several successful albums via crowdfunding, A Sound of Thunder teamed up with Valient Comics to create "Tales from the Dead Side," inspired by Shadowman, a well-known hero character from this publishing house.
A Sound of Thunder announce the release of their seventh album titled "It was Metal" which includes a metal version of "Els Segadors (The Reapers)," the Catalonian Anthem. The video release for this single became viral, reaching more than 1 Mil. YouTube views in less than 6 days and successfully booking a solid European Tour in December 2017 in relevant concert halls in Catalunya and Germany. A Sound of Thunder has shared the stage with relevant metal acts such as Udo Dirkschneiderder from the band Accept and have collaborations with Veronica Freeman's Benedictum and Blaze Bayley from the band Wolfsbane and Iron Maiden.
Fulton Ave
/ FACEBOOK
Slow to take shape, but ferocious once completed, Fulton Ave is a no frills metal band comprised of some of the most experienced players in the central Virginia area. The brainchild of drummer Jordan Marchni (Bella Morte), Fulton Ave was conceptualized as a band looking to bring aggression back into the local scene. Joined by bassist and producer JJ Williams (In Tenebris) and local session guitarist Drew Curtis, the band began to take shape and the first tracks were recorded. Guitarist Justin Melton was later brought in to further enhance the group's live sound and sonic capabilities. The final piece came in the form of Vocalist Kim Dylla (GWAR, Kung Fu Dykes, Thismeansyou) who joined the group in mid-2016. With straight forward riffs, a crushing rhythm section, haunting melodies, and lyrics that scream far past obscene, Fulton Ave isn't looking to appease popular metal trends. They're looking to tear them apart.
Metanium
/ OFFICIAL WEBSITE / TWITTER / FACEBOOK
Metanium is a band formed in Washington, DC a few years ago with variations in its members throughout its existence, but always maintaining its lead singer and founder. With two albums in hand, and much craving to fight, Metanium continues to battle among the metal world and beyond…