Dope Francis
FRI JAN 26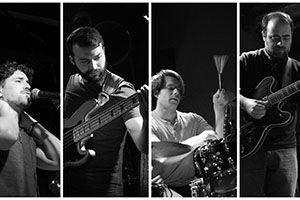 / OFFICIAL WEBSITE / TWITTER / FACEBOOK
Dope Francis is a 4-piece band from Washington, DC which formed in 2015. Dope Francis plays lush, ambient rock with jazz and r&b influences, and is made up of Dylan Joyce on vocals, John Haylor on bass, Jeremy Padow on Guitar and Andrew Carlson on drums. Their debut EP "Good For" was recorded in the fall of 2016.
The U.S. Americans
When a band has the moxie to title their debut album Greatest Hits, legend and fact fuse as easily as all the elements that make up their progressive psychedelic punk-rock sound. Twenty or so years on, nobody knows if it's a true origin story of The U.S. Americans or artful mythmaking, so we can talk about the moment that changed Jeff Weiss and Roy Abraham's dual musical destiny from a few angles.
Take one: Back in their school days in Forest Hills, the future founders of NYC group The U.S. Americans were cutting class and ran into Joey Ramone at Sam Ash on Queens Blvd. They asked him for advice he would give to young musicians, and he said "Find anything better to do, music sucks." Now that The U.S. Americans have sunk their flag into New York's punk scene, planning to stick around to spread life, liberty and the pursuit of music, Weiss, the group's frontman, is comfortable looking back on that supposed encounter with the punk legend to simply, "Joey told us to start a band."
Weiss and Abraham have been friends ever since but ran in different musical circles – Weiss in numerous bands, Abraham writing and playing mostly behind closed doors – until 2014. Weiss was writing the epic, guitar crunching rocker "Movies" and realized he needed a new band to bring his musical imaginings to life. When Weiss realized that Abraham had the guitar chops to pull it off, The U.S. Americans were born. The full lineup solidified in early 2016 with drummer Emerson Williams and bassist Dan Deychak.
The band has brought its unpredictable edge and blistering intensity to numerous hotspots around New York, energizing the Highline Ballroom, Mercury Lounge, Bowery Electric, Arlene's Grocery and many other venues with their high energy, freewheeling live shows. Once, on a mini-tour of Seattle, Jeff Ament from Pearl Jam opened for them at the Fun House (fact, not legend). "The live shows are our bread and butter, where we stir up the real excitement," Weiss says. "It's a little dangerous because you don't know what will happen from gig to gig.
The haunting psychedelic album cover of Greatest Hits features classic symbols of America (a hot dog, a bald eagle, Ben Franklin with Mickey Mouse ears) balanced by a scattered mess of ghouls, attacking alien spaceships and wads of bills. The 12 tracks are likewise infused with a joyful schizophrenia loosely based around the theme of America's decline and late stage capitalism – but roll ambiguously enough to let listeners draw their own conclusions. The U.S. Americans are having a blast creating promo videos to draw eyes and ears into the experience, starting with quick cut black and white clip for the speed-punk jam "FCK the KGB," which splices a high octane band performance with scenes of prisoners and implied torture.
The video for the soulful, languid "King Someday" finds Weiss exploring some of the grittier sights of suburban NYC, while the rhythmically all over the place, multi-movement seven and a half minute sensory blast "Fade Out" is given a powerful animated clip that uses hundreds of American images and scenes of destruction (including aliens destroying supposedly sacred landmarks) to get it's point across about the decay of everything we once cherished. It was written a few years ago but captures the current zeitgeist perfectly.
"Greatest Hits may be a gag name for a collection of songs that had been existing in people's heads for years, now brought together to help us forge a true band identity as The U.S. Americans," Weiss says. "Everyone told us to come out with an EP, but I don't remember ever being a kid and sitting down and having that kind of experience with an EP. We wanted to make a statement and I think we did. There are a lot of flavors on this record. That's who we are as a band. If the album is making an overarching statement, it's that we're not just one kind of band, and no one should be surprised with any direction we take our music in. We all grew up listening to everything, so in turn we want to be everywhere."
Resilient
/ OFFICIAL WEBSITE / TWITTER / FACEBOOK
A femme-driven Philly band was born completely by accident out of the ashes of several other projects after a series of life-altering (not-to-mention life-threatening) events. The members would eventually call themselves Resilient.
The array of influences within this band is so wide; it could quite possibly transcend the equatorial diameter most likely more than once. While they refuse to allow themselves to be defined by any one style, there is an apparent affinity for grunge, punk, and prog-pop styles in their multi-layered musical arrangements.
Resilient has not just been a band. It's been a place of truth, hidden strength, artistic euphoria, and a testament to the fact that music has ultimately propelled and empowered each member to overcome nearly anything among the spectrum of life's challenges.