Margins, Homosuperior, Birth Defects, & special host Henry Owings performing "Micro Impressions Vol. 1" and other "hits"
MON FEB 19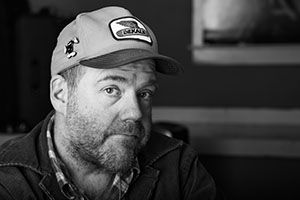 Margins
Margins is a punk band from Baltimore, MD. Nolen Strals (formerly the singer of Double Dagger) heard the minimalist/heavy art rock songs his friend and mutli-instrumentalist Rowen Frazer had been working on and said "I'd love to do a band together based on these ideas." They immediately scrapped all of those songs and decided to use a drum machine in lieu of dealing with the hassle of adding a third personality and schedule to the band. Some songs are just stripped down to guitar and vocals. At shows, the band's sound has received comparisons to Big Black, some artsy jazz stuff, and one Baltimore local said approvingly "It's like poetry shouted over really loud riffs."
You can hear a demo recorded on one microphone in one take in their practice space at an auto repair shop here: www.margins.bandcamp.com
Homosuperior
/ FACEBOOK
Formed in a dingy basement on New Year's Eve in Washington, DC, HOMOSUPERIOR plays in-your-face, snotty queer punk for the jaded and disaffected queers in the nation's capitol.
Birth Defects
People fucking suck. But, shit. They also make this damned existence worthwhile. Those assholes over there can go kick the can. But the noiseniks right here, blasting Boredoms and Comsat Angels? They're a-okay. This group of Baltimore-bred musicians operating under the name Birth (Defects) is releasing a project fit for fashionistas, punks, and all those in-between or outside. The Dissimulate boxset (their newest release) is a cassette of demos and unreleased songs charting the band's growth from 2013 to the present year, 2017 (help). Paired with that is a lathe cut 7" featuring a new song, "Macross," which will be available on a 2018 full-length. As well, you get a pin, a patch, and a feeling of self-worth (not guaranteed).
This collection will soothe the disaffected, rile the sad, and unite the hurt. Scream along with these songs before you're screaming at Discogs for the sure-to-be sky-high resale listings (it's limited to 40 copies). "Macross" is a spinning, enthralling ode to interpersonal relationships, made in a mold cast by doomy Bauhaus and sludgy Earth. "You don't want to taste it/ cause you will worry/ do you remember love right now?/ It's something/ It's everything," screams frontman Sean Gray. Backed by a churning, brutal rhythm section and a creeping, distortion-drenched tunefulness, the song concerns the difficulty of navigating relationships and trying to stay committed to the idea of love. Without it, what is there? The track signals Birth (Defect)'s melodic development, as the cassette embraces the noise the group was born to share.
The entire b-side is a 20-minute power electronics exploration of walls of harsh sound. "Macross" and "Take" were recorded by Nick Skrobiz (Multicult) in Baltimore. "Youth" and Crawl" were recorded by Shaun Sutkus (Perfect Pussy) in Brooklyn. Where to next, guys, Boogerville? "Youth" is an observational poem about how attention spans are so short these days, you don't have to bother caring about anything. "Why worry? We got nowhere to go," Gray gloomily intones. Across the cassette, this rock band reaches delirious decibel levels. If headbanging is your main form of exercise, you're about to get ripped. The tape closes a chapter on the band and "Macross" is where they're headed. Grab some Western Fries, your stereo, and a friend. Remember love.
Henry Owings
/ FACEBOOK
It's often said that those who can, do; those who can't, teach. However, in the case of Henry Owings, he does. Quite a bit. And quite a bit more. He's a graphic designer, magazine publisher, author, concert promoter, record producer, tour manager and now to add to this list: comedian. Brought on stage after a dare with his wife as to who was funnier, Henry quickly found out his wife is way funnier than him. And he admits to it. Freely. However, he persists going on stage largely to excise the beasts that he's targeted in the pages of his three books and also in his long-standing magazine Chunklet. He recently self-released his first record called "Micro-Impressions Vol. 1" and is a five minute collection of his one-second impressions of bands ranging from AC/DC and Blonde Redhead to, well…you get the idea. Owings took his act on the road with The Gotobeds last year and couldn't be discouraged from continuing his utter nonsense. And so here we are, watching a grown man, father, husband and labradoodle owner queef into a microphone and call it "comedy." There you go, 2017, do your worst.
It should be added that Owings is currently the top selling artist in the long-dead Mini Disc market for 2017. His record "Micro-Impressions Vol. 1" has sold four copies. Then again, that was just at last count. It might be more by now.