deer scout
WED JAN 17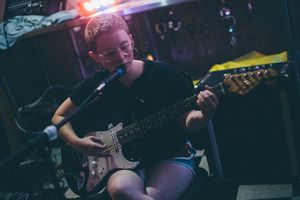 Fans of Suzanne Vega, Julien Baker, Elliot Smith and Waxahatchee will fall in love with deer scout. Before transferring to Oberlin College, Dena Miller spent the first week of her freshman year in her dorm room, writing her first EP. Finding a home in the Philly music scene, she released Customs, titled after the college orientation program she skipped. The songs on Customs are introspective, haunting and melodic, reflections on childhood and growing up. "We could see Miller taking her career in a pop goddess route just as easily as an indie rock queen – and it'll be a journey to keep your eyes on in either case," wrote WXPN's The Key. Customs reflects the influence of an upbringing around traditional folk music, while her newest single, 'Sad Boy, takes a step in the synth pop direction, painting a portrait of the liberal arts bro in the digital age of aestheticized emotion.
Lavender
Anthemic dream pop with atmospheric synths/guitars, reminiscent of polished indie pop favorites like The Naked and Famous, The 1975, and The Joy Formidable.
Keeper
Keeper writes songs about the feelings you don't like.