Dry Reef
THUR FEB 22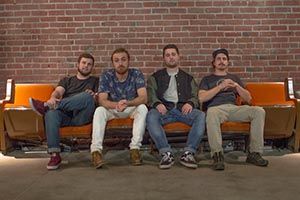 / OFFICIAL WEBSITE / TWITTER / FACEBOOK
DRY REEF is a group dedicated to establishing a wave of high-energy, uplifting music. Rooted in the rock/reggae sound that put them on the map, the young group incorporates inflections of indie-surf rock and electronic post-rock forming a refreshing, organic sound you cannot ignore. These 23-year-olds are rapidly evolving from dreamers to decision-leaders in the industry. With the 2018 release of their "Alright Revival EP" the band portrays their rapid growth in performing, creating, and exploring their sound throughout 2017, and the excitement is felt with every song.
Coral Benders
DC's premier surfgaze band soaked in old skool psych and dance-a-billy. They're loud quiet loud and weird poppy weird with reverb as tasty as a popsicle melting on a hot summer's day.
Pet Cheetah
Pet Cheetah blurs the lines between funk, roots, and electronica to create their own special blend of violin soaked rock and roll. The music is lyrically driven, pulsing with rhythm, and filled with awakening melodies.