The Lucky So & Sos
THUR FEB 15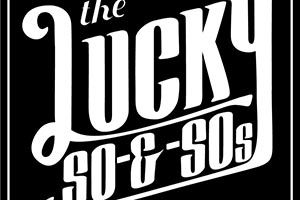 / FACEBOOK
The Lucky So & Sos are a Washington DC jazz/funk/hip hop band. Their live shows are a unique experience in that they never play the same set twice. The common elements of any So & Sos show are improvisation and their enduring homage to DC's musical heritage - the band name itself is a call-back to Duke Ellington's 1945 composition "I'm Just a Lucky So & So." The So & Sos perform a mix of original tunes in jazz styles including Latin, bossa nova and funk, with surprising covers of everyone from J Dilla to John Coltrane to Gil Scott Heron to Radiohead to Fugazi.
Ménage À Garage
Ménage À Garage (MÀG) is a pop punk, power trio from Washington, DC. Since forming in 2015, MÀG is known for "crushing venues across the region with their heavy, yet simple, melodic rock beckoning a return to the music of previous decades." (Dominion Collective) MÀG's 2016 submission to NPR's Tiny Desk Contest was selected by WAMU's Bandwidth as one of DC's "top 10" submissions.
MÀG performs cathartic rock, known for its affecting melodies, heartfelt lyrics, driving rhythms, and energetic shows. Sincere, smart and angst-filled, MÀG songs are simple and catchy on the surface, but are textured and complex underneath. In November 2016, MÀG released the four-song "Throw My Doubts on the Fire" EP, recorded at Inner Ear studios with sound engineer Ivan Basauri. The song "You Get the Wiser" is featured on the 2017 Skunk Roundup compilation, "Bummer Summer". You can hear MÀG on major streaming sites.
MÀG is Jenny Thomas on bass, Alyson Cina on drums, and John Nolt on lead vocals and guitar.
The Barking Carnies
"You were pretty good" -Ian MacKaye, actual quote, to Barking Carnies about Barking Carnies, 9/9/17